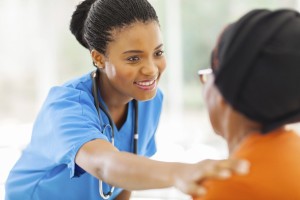 Speech therapy allows individuals who may be struggling with communication, cognition, or even the physical ability to swallow. Through careful instruction and exercise from a certified in-home Speech-Language Pathologist (SLP), people from all ages can strengthen and restore essential communication and eating abilities to live life independently and with confidence.
At The Doctor's Choice in Los Angeles, our skilled and compassionate speech therapists work closely with patients of all ages, from young children to elderly adults, in the comfort of home. We believe in taking a collaborative approach to ensure overall, sustained improvement, and invite the patient's family to become involved in the learning and training process.
To learn more about The Doctor's Choice and our speech therapy, as well as our additional home health services, please do not wait to contact us online or call (855) 857-0797. You or your loved one's speech and language improvement can start today! We are available to discuss your specific needs seven days a week.
Types of Speech, Language, and Feeding Disorders We Treat
Whether as a result of hereditary factors, injury, illness, or age, if you or someone you care about struggles with one of the following conditions, working with our professional speech therapists from the comfort and security of home can provide extraordinary results.
Speech Disorders:
Articulation Problems
Voice Disorders (volume, pitch, or quality of voice)
Fluency Problems (stuttering, stoppages, or prolonged sounds)
Chronic Hoarseness
Language Disorders
Cognitive Delays (difficulty understanding language)
Memory, Attention, or Problem Solving Difficulties
Expressive Disorders (limited vocabulary, difficulty using language appropriately in social settings)
Dysphagia (Oral Feeding Disorder)
Motor Planning Problems
Weak Oral Muscles
Birth Defects (cleft lip or palate)
Respiratory Disorders
Swallowing or Feeding Disorder
Many patients who benefit greatly from speech-language therapy often have the following conditions:
Autism
Traumatic Brain Injury
Stroke
Amyotrophic Lateral Sclerosis (neurological disease that degenerates nerve cells)
Hearing Impairments
Physical Injury
Oral Cancer
Dementia
Apraxia (neurological damage that affects language)
Dysarthria (muscle weakness that affects speech)
Huntington's Disease
By working with a dedicated, experienced speech therapist at home, patients can work on speaking, communicating, and eating conditions in the privacy and comfort of home. Often times, patients feel embarrassed or frustrated when it comes to a speech-language issue, and our considerate staff members believe in working in a safe, familiar environment is more conducive to progress and growth.
Contact a Los Angeles In-Home Speech Therapist
The Doctor's Choice speech therapists have extensive training and experience with patients of all ages and capabilities. We also provide additional home health services, such as medical care, physical therapy, domiciliary care, and companionship to ensure that you or your loved one has the support and assistance necessary to reach full potential and independence without complication. Our in-home services are fully customized to meet each patient's needs and goals.
To receive quality care and treatment from a certified in-home speech pathologist in Los Angeles from our compassionate and dedicated team, call (855) 857-0797 or email us at info@thedoctorschoiceagency.com.
Next, read about Bowel/Bladder Training.