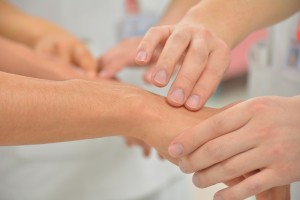 If you or someone you care about is living with an injury, illness, disability or other condition that makes everyday activities, such as getting dressed, preparing meals, or earning an income too difficult, let the exceptional in-home occupational therapists at The Doctor's Choice help.
We understand that overcoming an impairment or adapting to the effects of age can be overwhelming, but you do not have to face this new challenge alone. Our qualified occupational therapists have extensive experiencing providing the hands-on support and training necessary for you or your loved one to achieve independence and peace of mind from the comfort and familiarity of home.
To discuss your unique concerns, get in touch with The Doctor's Choice today! Our in-home occupational therapy services are customized to meet each patient's needs and health goals. Please contact us online or call (855) 857-0797. We look forward to matching you with the best therapist possible.
What Conditions do Our At-Home Occupational Therapy Specialists Treat?
The Doctor's Choice is proud to have a staff comprised of occupational therapists and rehabilitation specialists with experience treating patients with a broad range of physical, mental, and emotional conditions, including, but not limited to the following:
Back or Neck Issues
Osteoporosis
Dementia
Alzheimer's
Traumatic Brain Injury
Amputations
Stroke
Parkinson's Disease
Joint Replacement
Work-Related Injury
Mental Illness
Arthritis
Permanent Disabilities
Developmental Delays
Visual Impairment
Spinal Cord Injury
Fractured Bones
Post-Traumatic Stress Disorder
Our in-home therapists take the time to assess each patient's abilities and concerns to develop a personalized treatment plan that is continuously adjusted to suit the patient's progress and goals. We coordinate with the patient's family, physician, pharmacist, and community resources to ensure that the patient has a comprehensive plan that is facilitated and supported in a group effort.
A physical impairment, cognitive disability, physical injury, or other condition does not have to limit an individual's daily life. Let The Doctor's Choice provide the support and guidance you or a loved one needs to regain independence, happiness, and a positive quality of life no matter what life changes have occurred.
In-Home Assessment and Management for Stronger Outcomes
In addition to creating and implementing a comprehensive treatment plan, the occupational therapists at The Doctor's Choice can assess a patient's ability to manage his or her conditions or health concerns. The Doctor's Choice is proud to offer additional medical and personal care services, such as medication management, IV therapy, domiciliary care, speech therapy, and medical social services.
To learn more, please visit Our Services page.
Contact The Doctor's Choice Today!
If you are seeking physical rehabilitation or assistance for everyday tasks for yourself or a loved one, The Doctor's Choice Home Health Services is here to help! Call (855) 857-0797 or send us a message online to get started on a positive, productive treatment plan. We are available to discuss your specific needs any day of the week. Do not wait to give us a call.
Next, read about Speech Therapy