If you've noticed that your loved one's health is starting to decline, or injury, illness, or disability has interfered with his or her independence and safety at home, whether you live with your loved one or across the country, a companionship caregiver can give you and your loved one the assistance and support you both need for peace of mind. The experienced, friendly, and compassionate companionship caregivers at Right Choice Caregiving, a branch of The Doctor's Choice agency, can offer a wide range of non-medical services to allow your loved one to stay in the comfort of home without worry.
Right Choice Caregiving in-home companionship services are suited for children, adults, and seniors based on the patient's specific needs, whether on a temporary, long-term, hourly or private duty basis. To learn more about our services and how we can help you and your family, please contact us online or by calling (855) 857-0797.
Types of In-Home Companion Care Services
The goal of companionship is simply to offer friendship and company to an individual who may need assistance and care throughout the day. This may also include light housekeeping as well. Right Choice Caregiving carefully matches each patient with the right nurse or caregiver to provide the following companion care services:
Transportation
Playing games and recreational activities
Reading a book out loud
Encouraging and facilitating social activities
Shopping and errands
Home projects
Laundry and light housekeeping
Meal planning and preparation
Watering plants and pet care
Assistance with personal hygiene
Medication and appointment reminders
Our at-home companion care services can be customized to fit each patient's needs and circumstances. Whether a patient needs attention and companionship or more hands-on assistance and care, our personal at-home companion caregivers can be there to interact and care for your loved one, enhancing his or her quality of life. Our caregivers are flexible and can accommodate a patient's special needs as well as their family's busy schedule.
Why Hire In-Home Companion Care?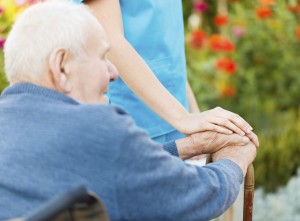 Every patient's situation is unique, but when at-home assistance is necessary, rather than relocating to an assisted living facility or nursing home, in-home companionship can provide the following benefits:
Safety and supervision
Socialization
Mental stimulation and enrichment
Improved quality of life
Improved mental and physical health
By staying in the familiar environment of home with the assistance of a friendly, professional companion caregiver, patients maintain a high quality of life without disruption or stress. Right Choice Caregiving also offers additional services to allow a patient to remain at home without sacrificing health and safety, such as physical therapy, medical care, pain management, skilled nursing, domiciliary care and more all from the comfort of home.
Companionship You Can Trust
To learn more about our exceptional in-home companionship caregivers and how we can help you and your family, please do not hesitate to contact The Doctor's Choice in Los Angeles. You may contact us online or call (323) 965-0510 seven days a week to schedule a consultation. We will be sure to match you with the best caregiver available in Los Angeles!
Visit Right Choice Caregiving to learn more!