Incontinence, or difficulty controlling one's bowels or bladder, can often occur as a result of an injury or illness or even as a result of the aging process. While embarrassing or frustrating, it is possible to overcome this condition with the help of the registered nurses, licensed practical nurses, and in-home health aids at The Doctor's Choice in Los Angeles. Our compassionate and specialized team have many years of experience working with patients of all ages regarding incontinence and can work with you or your loved one to find the best solution available.
Whether a result of trauma, surgery, or other condition, bowel or bladder issues can have a significant impact on an individuals' physical, emotional, and psychological well-being. With a compassionate in-home care nurse on your side, our patients can regain control in the comfort and privacy of home. To learn more about the at-home bowel/bladder retraining services at The Doctor's Choice, please do not wait to call (855) 857-0797 or contact us online. We are available to discuss your needs any day of the week.
At-Home Bladder and Bowel Retraining Service
The goal of bladder/bowel retraining is simply to help patients manage incidence of incontinence or accidents effectively with a combination of exercises, techniques, and lifestyle changes. Working one-on-one with each patient, our in-home incontinence nurses perform the following services:
Assess and diagnose underlying conditions
Monitoring voiding habits or schedule
Meal planning and diet changes
Scheduling toilet activities
Training for a new voiding schedule
Pelvic floor strengthening exercises
Creating a consistent schedule of daily activities
Many people avoid seeking professional help for bladder or bowel problems, but with The Doctor's Choice, our patients receive considerate, knowledgeable care to ensure not only comfort with getting help, but also confidence that the issue is being addressed by a reliable caregiver.
What are Common Causes of Incontinence?
Issues of urinary or fecal incontinence can occur as a result of a medical condition, surgical operation, or gradual loss of abilities with age. Our skilled in-home medical workers and caregivers often work with patients dealing with the following conditions that cause incontinence:
Urinary tract infections
Constipation
Irritable bowel syndrome
Side effect of medications
Mobility problems
Speech or language disorder
Dementia
Alzheimer's
Prostate cancer or issues
Overactive bladder
Pregnancy or hormonal changes
Hysterectomy
Brain injury or tumor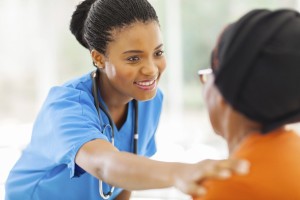 With the experienced, professional guidance of the at-home caregivers at The Doctor's Choice, you or your loved one will receive a thorough exam to diagnose cause or any underlying conditions contributing to incontinence, as well as a personalized treatment plan to effectively address the issue. Our main goal is to ensure that each and every patient has the support and guidance necessary to reach his or her goals while in the comfort and familiarity of home.
Contact a Los Angeles In-Home Speech Therapist
The Doctor's Choice incontinence nurses and caregivers have thorough training and extensive experience helping patients learn how to properly manage bowel or bladder issues in order to regain confidence and independence.. Let us be there to ensure that you or your loved one has the medical care and training necessary for success.
To receive quality care and treatment from a professional from our compassionate and dedicated team, call (855) 857-0797 or email us at info@thedoctorschoiceagency.com.
Next, read about Companion Care